SKI COURS PEISEY–VALLANDRY / LES ARCS 1800

Child/adult ski course in Paradiski
Peisey Vallandry ski lessons prices
Private lessons 1 to 2 people
Prices
Additional people
Private lesson 3 hours :


(9h to 12h)*

or (14h to 17h)
185€
15€/pers
Private lesson 2 hours :


(9h to 11h) (11h to 13h) or (14h to 16h)*

135€
15€/pers
Engagement of 1 to 5 people
½ day 4 hours : (9h to 13h) or (13h to 17h)
265€
15€/pers

*During school holidays, private 3-hour ski lessons will take place exclusively in the afternoon.

*Les 2 hour lessons are only available outside of French school holidays.
My training and professional experience as a ski instructor and sports teacher mean I can adapt my ski cours to particular needs and suggest original ways of learning to ski, through specific teaching designed to suit the individual.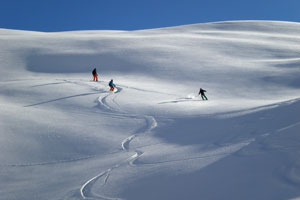 I can offer you tailor-made ski course, adapted first of all to your age - "from three to 77 years" - and to your physical condition so that you can progress at your own pace.
My teaching method is mainly based on the practical approach which enables you to pick up the various techniques. I chose the most suitable spots to take you to, those that offer the best conditions for your progression.
This method makes learning to ski fun and instinctive, while making sure you enjoy yourself and get the most out of the time available.
My lessons also include technical explanations so as to ensure the best possible understanding of the difficulties of skiing.
Peisey-Vallandry private ski lessons for 1 to 2 people
You would like to learn to ski or improve your technique for just a few hours a day
From beginners to experts, I offer private ski lessons (1 or 2 people) providing targeted technical teaching for two or three hours.
This formula is particularly suitable for young children from three years old as well as for those seeking to improve their ski technique, to get more out of skiing or to become more autonomous.
Intensive technique lessons and exploration of the Paradiski ski area.
Make rapid progress while exploring the endless potential of our Peisey-Vallandry, Les Arcs and La Plagne ski areas.
Whether you are a beginner or an advanced skier, the Paradiski ski area offers well-groomed pistes of all levels. They give you the freedom to discover the entire area in complete safety.
I will help you progress in a wide variety of conditions, gain a deeper knowledge of how to approach the mountain environment and learn to spot and choose the sectors and routes that best suit you.
For small groups of 3 to 5 skiers of a similar level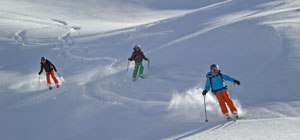 Full-day lessons
(from 9 am to 5 pm)
Half-day lessons
(9 am/1 pm or 1 pm/5 pm)
This formula is perfect for small groups of family or friends, who are pretty much at the same level. This is very important so as to ensure everyone enjoys the lesson and gets the most out of it.
For snowboarding lessons the conditions are just the same and Manon will still be your instructor.
For the prices of ski lessons, I suggest you look at the different formulas I offer on the page "Peisey-Vallandry ski instructor, rates".