Ski instructor Peisey-Vallandry / Arcs 1800 width Manon Barudio
Ski lessons | Snowboard | Beginners | Improvement | Courses | Off-piste | Inter-resort guiding
Ski and snowboard instructor in Paradiski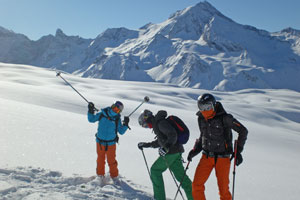 I have been working as a snowboard and ski instructor since 1999. I have been building on my experience by teaching in a wide range of contexts such as working with the UCPA, the Ecole du Ski Français at La Plagne and the San Martin de los Andes Ski School (Argentina). Since 2009 have been working as an independent ski instructor in ski resorts such as the Paradiski area: Les Arcs on one side, La Plagne on the other and right in the middle my favourite ski resort: Peisey-Vallandry.
Inter-resort ski guide
Inter-resort ski guide to give you a taste of different surroundings, snow and pistes. Besides the ski areas of Peisey-Vallandry, Les Arcs and La Plagne, I would love to introduce you to the Three Valleys, the Espace Killy, the Espace San Bernardo and Ste Foy Tarentaise. Unforgettable areas offering exceptional pleasure!
Ski school - ski passion - ski pleasure - Peisey Vallandry
Ski exploration in Paradiski, I am passionate about winter sports and great open spaces. And I love sharing my enthusiasm for them and the happiness they bring.
My love for ski instructing and my desire to progress lead me to return to my university studies, specialising in the psychological preparation of top-flight sportsmen and women. These cross-sectional studies enabled me to acquire a solid base of knowledge and are a great help in my job, whether it is teaching snowboarding, off-piste or ski touring - to name but a few.
I would be delighted to share my passion with you by introducing you to the Paradiski ski area and the resort of Peisey-Vallandry. I can offer customised, à la carte instruction: private lessons or whole or half day bookings.
On the menu: Skiing or snowboarding in Paradiski
- classic ski lessons or courses
- multi-discipline ski and snowboard lessons
- off-piste orientated ski and snowboard lessons
- technical lessons for ski and snowboard
- exploration trips: ski or snow-shoe trekking in Peisey-Vallandry and the Paradiski area
Method - Listening - Adapting - Pace - Technique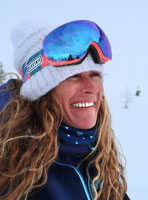 From the slightly nervous beginner to the expert seeking to fine-tune their technique or explore new areas in Peisey-Vallandry, Paradiski and other nearby locations, my goal is to adapt my ski lessons to suit your needs and expectations in terms of pace and level of effort as well as in the content and evolution of the session so that you can arrange your stay as you like.
Please do not hesitate to contact me so we can plan your stay in Peisey–Vallandry les Arcs 1800.
See you soon!
Manon